Residential Care
Our care team is passionate about providing specialised and compassionate aged and dementia care, including for people with complex needs.
Residential Care
Our care team is passionate about providing specialised and compassionate aged and dementia care, including for people with complex needs.
Helping you feel right at home
Residential aged care provides people who can no longer live at home a safe place to stay with 24/7 quality care. You might be finding it difficult to manage at home, are experiencing illness, or your carer arrangements have changed. In any situation, the decision to choose a care home can feel daunting but know this: you don't need to do it alone.
Our care team will happily guide you through this journey, tailoring support to suit your exact situation. Because we've been caring for people since 1932, we recognise that no two people's needs are the same. This understanding is especially important for people living with dementia who receive specialised care from our trained team.
So before your move into one of our homes, we'll make sure you feel understood, and comfortable about the choices you make.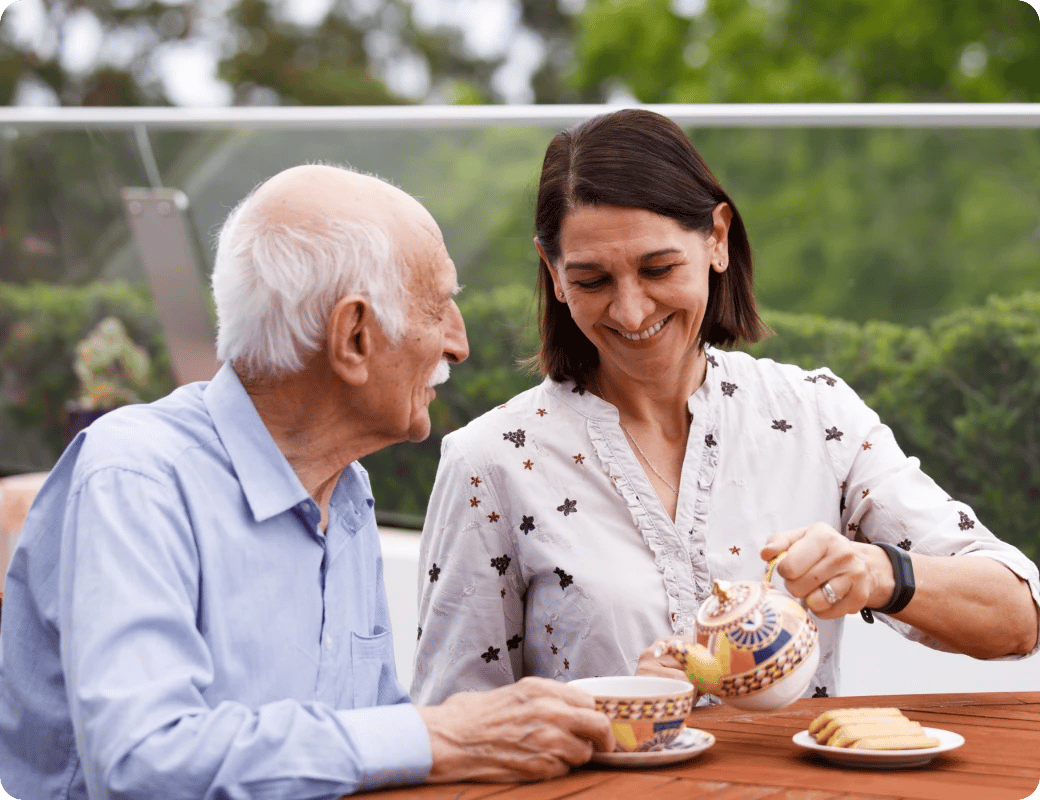 There are a few important steps and things to consider when you're searching and applying for a residential care place. We work with you to understand your needs and ensure you and your loved ones feel at home.
To help you, we've created a video and simple checklist that makes knowing what to look for easier when it comes to finding care.
Care homes designed with empathy
Visit one of our locations and you'll find a small set of cosy cottages, thoughtfully designed for people living with dementia. Safe, familiar spaces like ours truly feel like a place to call home and are especially helpful for people experiencing symptoms of dementia. Most importantly, our cottages set the gold standard model of care recommended by the Royal Commission.
This way, you or your loved one can enjoy independence, a strong sense of purpose, and continue to get the most out of life.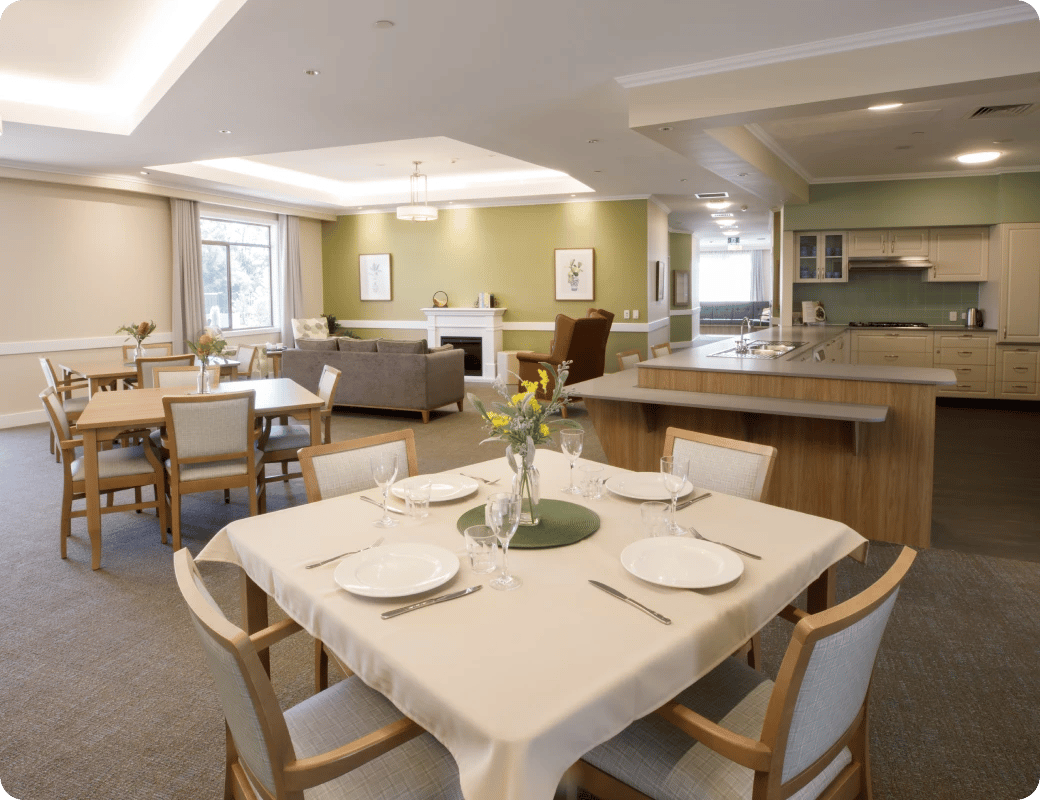 Watch how to get started with
residential care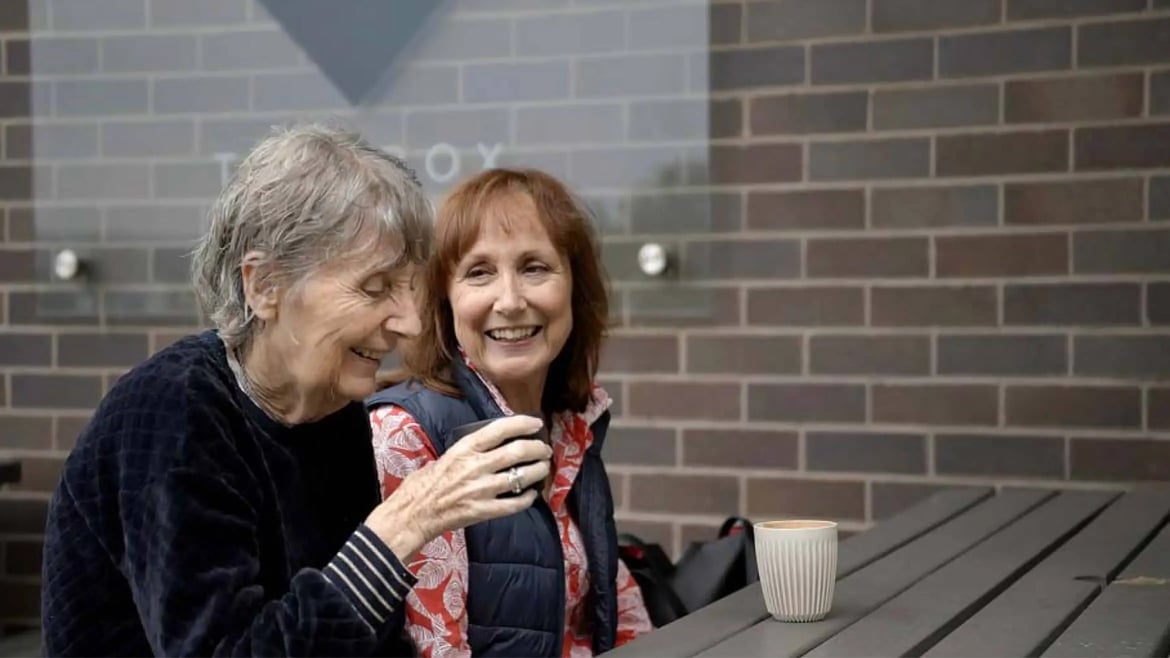 Access residential aged care in 4 steps
Check eligibility and apply
Before you apply to us for care, start by doing an online eligibility check through My Aged Care. Following that, you can apply for funding by:
This involves answering a few questions about your current situation and day-to-day activities.
What's next?
If eligible, you'll be asked to complete a free face-to-face assessment to better understand your care needs. The assessment is done by the Aged Care Assessment Team (ACAT) or the Aged Care Assessment Service (ACAS) in Victoria.
Do a face-to-face assessment
One of the specialists from the ACAT will organise a time to visit your home to complete the assessment. You won't have to go anywhere, nor do you have to do it alone. If you prefer, a friend or family member can join you for the assessment.
The ACAT assessor will speak with you about:
your well-being and any health concerns
your safety and support at home
how you're managing with daily tasks.
An assessment outcome is provided at the end of the visit.
Receive a support plan
If you are approved, you'll receive:
a formal approval letter
a support plan that lists your approved care services
unique referral code/s (to give to your provider).
If you aren't approved, you'll receive:
a letter explaining why and who to contact for more help
information about other support options.
Choose your preferred home
Now that you have approval, you can look into your options for a care home.
We understand there is lots to think about and it's important to feel comfortable with your decision. So when you visit us for a tour, we'll gladly go through the services and costs then and there. Our team is always happy to help. Contact us now.
To apply for a HammondCare home, please fill out and submit an application pack. We'll review your application and once approved, you are all set to move in.
For a helpful guide on our services and the HammondCare Difference, click here.
Excellence in food and dining
Healthy food is essential to good health and is one of life's great joys. Our team includes a Head of Food Culture, dieticians and dementia consultants who make sure food and dining at HammondCare is always fresh, nutritious and memorable.

Choice and engagement are also important parts of our food culture. Our care homes feature small home-like kitchens and we encourage residents to get involved in meal preparation. That's the HammondCare Difference.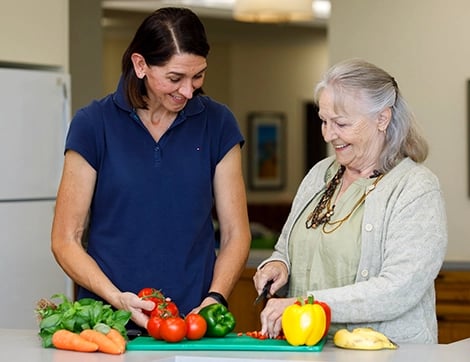 Find a residential care location near you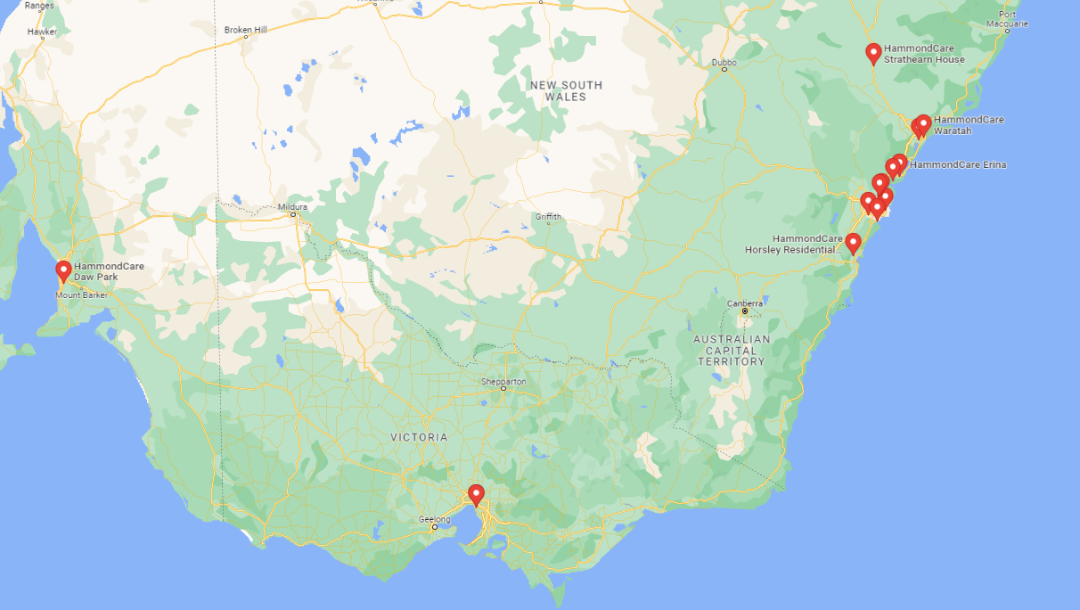 Contact us
We'd love to welcome you. If you have any questions about our accommodation or services, please call us on 1800 776 112 or send a message.