Dementia design
Our care homes are designed to evidence-based standards that are proven to improve residents' quality of life.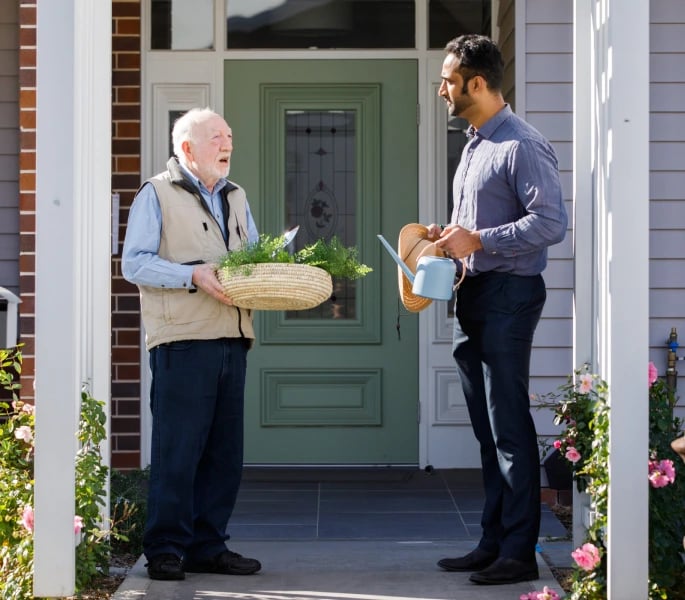 Leaders in dementia design
Residents living with dementia in our cottage-style homes live life as independently as possible. It's all thanks to the way our spaces are designed – with residents' experiences at heart. That's why for nearly 30 years, we've been constantly improving the design of our residential care homes, learning from experience and using internationally-recognised dementia design principles.
Good building design is just one aspect of our Cottage Model of Care and the approach recommended by the Royal Commission. By carefully considering the needs of older people and people with dementia, we're able to promote choice, maximise autonomy and minimise disability.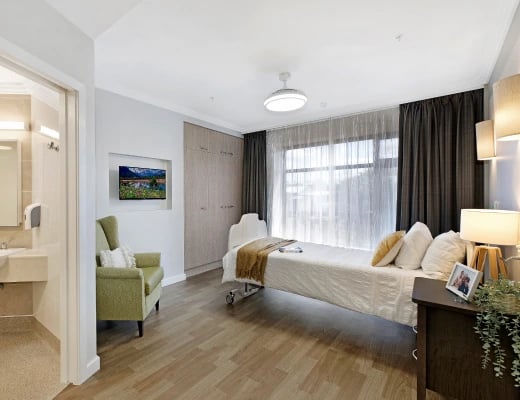 Design that makes life easier
A dementia-designed home minimises disability and promotes independence for people living with dementia. You're welcome to visit one of our locations to discover why these thoughtful design principles make a cottage feel like home.
Our Cottage Model
Everyone deserves to feel at home, which is why we use the small household approach recommended by the Royal Commission. In 1995, we developed the Meadows Cottages – much smaller households with familiar domestic settings. Since then, we've kept learning and improving, ensuring we provide even better care in the new cottages opened across NSW and Victoria.
Our experience and independent research have shown that care in a small household environment improves older people's quality of life, including those with complex care needs. The Cottage Model makes it easier for residents to find their way and have more independence, all in the comfort and safety of a home. And with a small number of residents, the care team gets to know each person and their family.
Familiar, homely spaces
Having a domestic-style kitchen at the centre of the home provides familiarity and comfort through the sight, smell and sounds of cooking. This helps residents feel calm and provides an excellent orientation of time and place. It's important residents have a sense of personal connection with their room and personal spaces, so we encourage decoration with furniture and items dear to them.
Helpful visual signals
We try to use our cottages as a language to communicate. Because dementia affects memory and sensory experience, residents must be able to easily read, not remember, their environment. Just as a pilot needs runway lights to guide their way, people with dementia need clear signals to help them navigate their surroundings.
There are a few ways we do this, such as:
contrasting wall and door colours to support wayfinding
avoiding confusing patterns on carpet and walls
brightening rooms with increased access to natural light
mounting framed collectables (memory boxes) by bedroom doors.
Promote self-esteem and autonomy
This is achieved in many small ways and can start with making every choice a 'right' one. This means there are no dead-ends and any locked doors are unobtrusive. No matter what direction a resident walks in, they always return to the central communal area. Different rooms have different daily activities and are welcoming and encouraging for visitors and family.
Controlled stimuli, especially noise
Noise is to people with dementia what stairs are to people in wheelchairs. Good dementia design controls stimuli by reducing noise and adding sounds that are reassuring. Unfamiliar noises from equipment and alarms are kept back of house.
A safe environment
Systems, like nurse alerts and bed and door sensors, create a safe environment without intruding on residents' quality of life. This means residents can safely be indoors or outdoors as they wish. We also use design features to reduce confusion or uncertainty and promote calm, such as:
non-slip flooring
traditional, familiar colour-coded taps
remote switches for kitchen appliances.
Deepen your dementia design knowledge
Want to know more about dementia design?