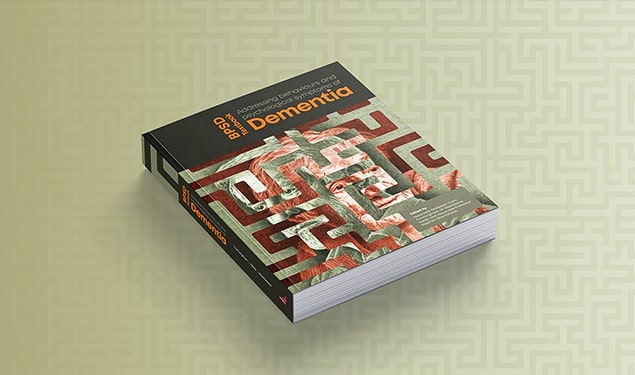 Dementia
Dementia

07 September 2022

News
Author: HammondCare
Read time: min. read
The 828-page book, which is also accessible to carers and laypeople, draws on international literature and research but also decades of practical experience of HammondCare providing dementia residential and in-home care, as well as national advisory support through Dementia Support Australia.
It features more than 50 individual case studies from the frontline of dementia care to illustrate BPSD situations and the care approach that works.
"Every individual with BPSD should have a holistic assessment examining lifestyle, biological, social, psychological, psychiatric, environmental, and other factors. Causes could include undiagnosed pain, unskilled care, an unsuitable physical environment, or feelings of personal loss."
Colm Cunningham
Associate Professor & book author
The BPSD Textbook begins with chapters discussing the major dementias which include Alzheimer's disease, vascular dementia, dementia with Lewy bodies, frontotemporal dementia, Parkinson's dementia, Huntingdon's disease.
Also in the book, Professor Macfarlane, Head of Clinical Services for HammondCare' s Dementia Centre, explains the medications prescribed for dementia – antipsychotics, antidepressants, benzodiazepines, anticonvulsants, cholinesterase inhibitors NMDA antagonists and opioids – and the limited circumstances where they are an effective response to BPSD.
"It is reasonable to conclude that the evidence base to support the use of any medication in BPSD is very limited. For those agents where convincing evidence exists, the effect sizes are small, and their use is limited by significant problems with side effects."
Stephen Macfarlane
Associate Professor & book author
It is estimated that more than 70% of people living with dementia in residential care are prescribed at least one psychotropic medication, while about 30% are prescribed an antipsychotic.
HammondCare's hope is the book will improve quality of life for people with dementia and better support those who care for them. "When we understand that behaviour is like a language – a way of expressing need such as pain, frustration, loneliness, fear anxiety or any number of common human experiences – then everything changes."
Mike Baird
HammondCare Chief Executive
The Australian Institute of Health and Welfare reports up to 472,000 Australians are living with dementia, including more than half of people in aged care homes. By 2058, Australians living with dementia will more than double.