Care Navigation
Service
Delivered by HammondCare
Care Navigation
Service
Delivered by HammondCare
Expert care finder advisory support
An extensive range of aged care and related services exist for older vulnerable Australians, but often these are challenging to locate, apply for and access.

Our new Care Navigation Service provides free and impartial advice and step by step support to navigate care options, access community resources and guide you through My Aged Care.

The Care Navigation Service is part of the Care finder Network and is now open for enquiries from eligible people requiring advisory support, in a range of Primary Health Networks, currently including:
South Eastern NSW
Central & Eastern Sydney
Hunter, New England and Central Coast
Western Sydney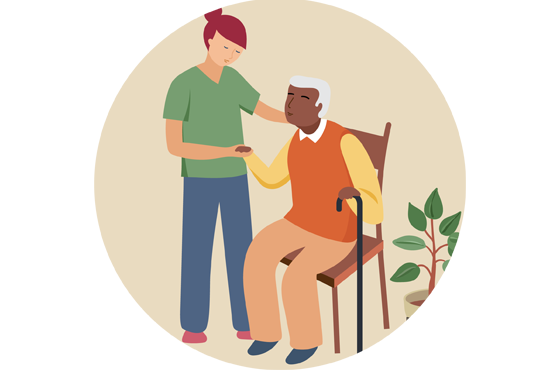 Who is eligible for the Care Navigation Service?
The new Care Navigation Service is available to eligible individuals who require specialist assistance and support, when accessing aged care and related services.

This may be due to:
Social isolation, disadvantage, or homelessness

Communication barriers

Difficulties processing information
Mental health, disability, or impairment

Anxiety in engaging with institutions
Help navigating every step
Support will be provided by Care Advisory Partners – compassionate and knowledgeable aged care experts, with extensive experiencing navigating the aged care system and creating community support connections for clients and their families. The Care Advisory Partner will usually meet in person, either in a home setting or another place they choose. We will ask questions to understand each person's situation and support them to work through the steps to address their needs.

This might include:
Explaining the various kinds of support available and their eligibility

Helping to complete applications and other eligibility documents

Supporting the use of My Aged Care and arranging assessments
Following up on referrals, setting up appointments, comparing outcomes

Arranging language translators for those who need it

Being an expert contact for people without support or experiencing homelessness
Read more about the Care Navigation Service
Aged Care Referrers
To learn more about how the Care Navigation Service can help to support your clients, patients or connections, download a copy of the free Information Guide.
For clients
To learn more about how we can help to support you to navigate care options and provide advisory support, download a copy of the free Information Guide.
We're also here to help you help others
The Care Navigation Service will work in partnership with Local Health Providers and community organisations to provide intensive support and assistance to highly vulnerable Australians.
The Care Navigation Service has been made possible by funding from: